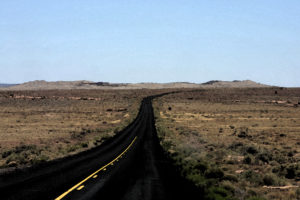 The 51 Project is named for historic U.S. Highway 51, an intriguing north-south path dating from the 1920's. It runs from Hurley, Wisconsin to  Laplace (originally New Orleans – superseded by Interstate 10) Louisiana. In Wisconsin the highway is at times a part of Interstate 39;  in Illinois it eventually parallels and merges with Interstate 57; it winds down through western Kentucky and Tennessee; from lower Tennessee to Louisiana it often parallels Interstate 55.
The 51 Project plans to document travels around the United States, mostly on less-traveled roads. The plan is to avoid interstate highways as much as possible.
Cities along Route 51 include –
Wisconsin: Wausau, Madison,  Janesville, and Beloit;
Illinois: South Beloit, Rockford, Bloomington-Normal, Decatur, Centralia, Carbondale, and  Cairo; 
Kentucky: Wickliffe, Clinton, and Fulton;
Tennessee: Union City, Dyersburg, Millington, and Memphis (where as Elvis Presley Boulevard, it passes Graceland Mansion, the home of Elvis Presley);
Mississippi: Senatobia, Batesville, Grenada, Jackson, Brookhaven, and McComb;
Louisiana: Hammond, Ponchatoula, and Laplace (originally New Orleans).
While not as well-known as its famous brethren Route 66 and U.S. Highway 50, (both of which it intersects in Illinois) it is an interesting part of America's Midwest and American history.
(https://en.wikipedia.org/wiki/U.S._Route_51) has an informative article on the twelve-hundred-plus mile road (and FYI, yes, the photo at top is one of mine, but obviously not of U.S. 51: I do, however, live within a mile of "51," and have, in two different states, for much of the last  half-century). I am a retired teacher, photographer/videographer and journalist. I have 10 states to go before I can claim to have traveled to all of the fifty states. That drive to Alaska is gonna be tough…
-30-